Hi!
It's been awhile since I've made a proper post...
Today I'll show you my latest purchases from Bershka! Back in college my friend always recommended this shop to me but I wasn't really interested. However the other day I decided to glance around (online of course!) and I found some cute, cheap jackets:
These come in all colours but I just couldn't resist getting pink! (I'm trying to expand my wardrobe to more than just black clothes lol)
I also purchased a similar styled jacket in black:
The only downside to these jackets is that they're really thin, so they're no good for me currently in this bitter cold. (They said that it's going to snow in London tomorrow D:) But during the summer they'll be perfect!
Today I went into Bershka on Oxford Street and in the sale section they were selling lots of nice shirts! I bought three:
The pink and black shirts are exactly the same! Both have two front pockets:
...and a single stud near the collar:
The cream shirt has different additions to its collar:
I've also been busy browsing on Rakuten. Ugh, I could spend hours on there! I came across Chocomint when...I actually can't remember lol but I think I just typed in "fairy kei rakuten" in google or something ahaha. This was my first time buying from there and everything went smoothly. (Google translate is officially my best friend hahaha!) I wanted everything from that shop, it's just sooooo cute! However I saw that many items were out of stock so I suggest that if you see something you want you need to buy it quickly!
I purchased four things: two rose rings (cream and pink), a cream Alice In Wonderland brooch/hairpin and a pastel coloured star brooch/hairpin.
I've realised that I'm becoming more girly as I get older but ahhhhhhh, this is so cute!
See what I mean when I say hairpin/brooch? You can put these anywhere! Bags, hats, clothing etc. Here's an example of where I've used this accessory:
I'm not a big fan of jewellery, I tend to lose earrings/rings etc. but when I saw these I just had to get them! ;;A;;
(Please ignore my ugly hands: I painted my nails just to take these pictures omgggg LOL D:)
Finally, the Alice In Wonderland brooch/hairpin! If you couldn't already tell I am in love (aka obsessed) with the story of Alice In Wonderland. It's my favourite Disney film. It's my favourite book. Everything about it...I could just read the story over and over again and never get bored ;;;; Erm....anyway when I saw this I just had to get it!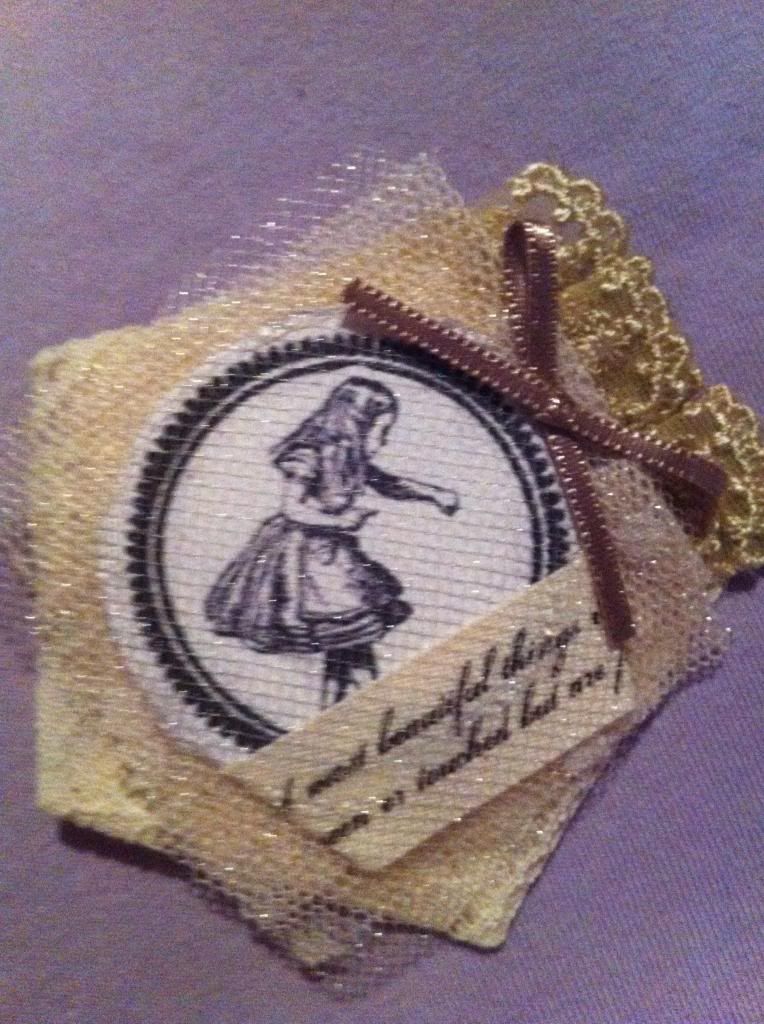 What a blurry picture omg
Here's what it looks like attached to my cream cardigan (as an example):
And that's it!! I'll hopefully be making another blog post soon so keep checking back for updates!
Thanks for reading!
Lala
___φ(・ω・` )