So my buddy Beth
went to Japan last month and brought me back a bag full of goodies and I just want to cry she's so lovely ;;A;;
You can read about her amazing trip here.
One day we'll go together!!! (=´∀`)人(´∀'=)
Goodies
I actually asked her to get me the shark socks from Avantgarde. I saw them on their web site and fell in love with them they're so cuuuuuute! They're currently
sold out online
though D:
More socks!!
Little Twin Stars!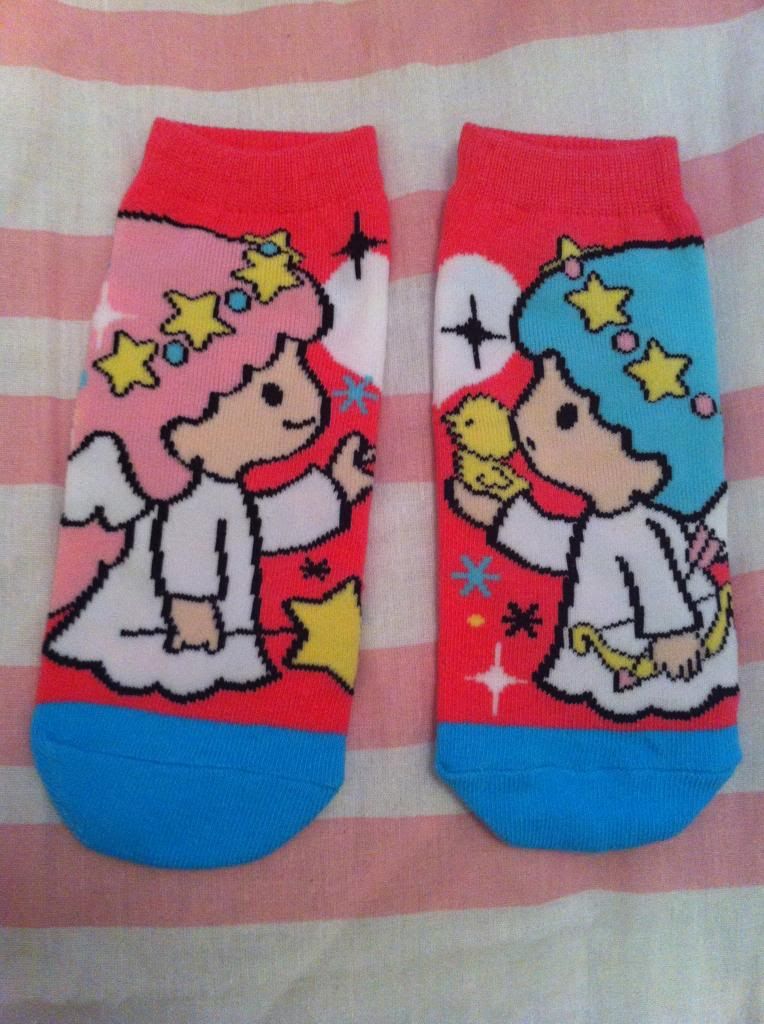 ZIPPER magazine, my favourite! This month's issue had a Hello Kitty x CANDY STRIPPER cosme (cosmetic) pouch and mini pouch!
What a cute sailor design!
A pretty ring! Recently I've been trying to wear more jewellery so this will definitely help haha!
A cute headband (oop at my hair lol)
Alice In Wonderland nail stickers ahhhhhhh (人´∀`*) I never want to use them because they're too nice!!!
Thank you so much Beth for these wonderful prezzies!! (If you're reading this haha!)
When we met up we also went to Hyper Japan so I'll briefly talk about that now!
Hyper Japan
This event was at Earl's Court and we went on the Saturday, 27th July.
It was really nice to walk around and see all the stalls and see all everyone's outfits.
Got some free newspaper and leaflets lol
Chocomoo!!!
This is the only thing I bought....stickers LOL (from
JP Books
stall)
We had a really great time, hitting up Brick Lane (visited the BOY LONDON store omg, I wanted everything! ;;A;;), the American Apparel outlet and Chinatown later!!
That's all for now!